Logistics and supply chain are increasingly moving towards automation, which is playing a decisive role in warehouse reorganisation.
The adoption of an automatic vertical warehouse is related to the "goods-to-man" concept, making access to products to be picked up and deposited much easier and safer.
The goods are transported within the warehouse and are brought to the right height for people, whereas operators used to have to move between shelves, mezzanines and ladders to pick up what they needed.
Not to be confused with automatic stacker warehouses, automatic vertical warehouses consist of a central elevator and several trays, which move on the vertical and horizontal axes to bring them to operator height. To be used in different business areas, goods and semi-finished/finished products are placed in the trays.
Automatic warehouses represent the evolution of working conditions in terms of ergonomics and safety, although they definitely also have other benefits.
First of all, they were invented to save space, given that taking advantage of unit height results in savings in floor surface area of almost 90%.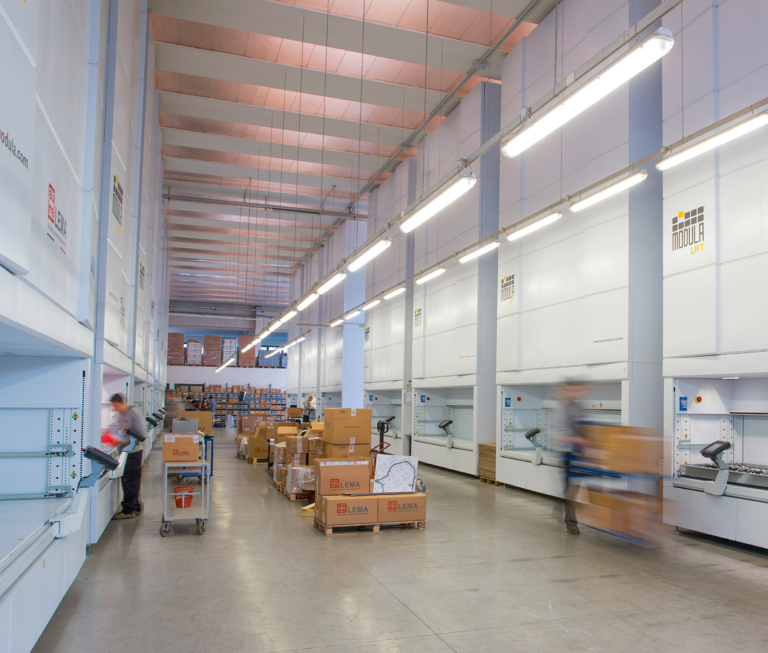 Some warehouses – such as the Modula Lift – can reach up to 16 metres in height and can contain up to 90,000 kg of goods, with a footprint of 14 m2.
By making the most of unit height of the premises in complete safety, space therefore becomes a new resource to be used for other activities and offers the option of savings in terms of rent and purchase of company premises.
Modula anti-seismic solutions also secure warehouses in areas at high risk of earthquakes; various tests have already been completed in conjunction with the Eucentre Foundation research centre in Pavia.
Not only do automatic warehouses save time and money, above all they represent automation, which translates into safety for operators but also for the goods. When stored in the warehouse, they are kept safe from theft, damage, dust and harm caused by external agents.
As the warehouse is closed and only transports materials to the bay when required, Modula protects everything held inside and also avoids contamination of all kinds.
This is exactly why it has proved to be the best choice for companies in the electronic, electrical, chemical and food industries.
The products are also all tracked, and every movement is recorded, so it is always easy to trace the handling of each item.
GROWTH IN AUTOMATION, LOWER RISK IN THE WORKPLACE
The growth forecasts in the automation market are for more than double from 2019 to 2025, courtesy of major factors in overall growth, the incredible expansion of e-commerce and the increase in warehouse labour costs.
As warehouse operations are critical to the success of any supply chain-centric business – especially low-margin, high-volume operations such as e-commerce and retail, competitiveness comes down to the throughput and accuracy of picking as well as the acquisition of technologies and automations within the warehouse.
There are no ready-made solutions in this case, rather only automatic solutions, customised on the basis of the client's requirements and their workflow.
A consideration of warehouse automation must relate to how essential it is for the future of all businesses. As well as ensuring safety and social distancing, automation processes represent an investment with one of the highest ROI.
The system chosen by a retailer will depend on the productivity they are looking for and the range of SKUs on offer, as well as on the level of organisational flexibility they wish to see in a warehouse.
The purpose of the acquisition of warehouse automation is to reduce the margin of error in processes: according to research conducted by PwC, companies using AI and innovative data analysis methodologies can reduce supply chain costs by 6.8%, increasing revenues by 7.7%.
A consideration of automation must also relate to Logistics 4.0, i.e. machines that can collect data and transmit them using their connections.
So, what does it mean to innovate in the supply chain using automation?
higher speed and efficiency
improvements throughout production
more efficient handling of semi-finished products and raw materials
capacity to evaluate an increasing quantity of data
tracking of all movements of the warehouse itself
rapid fault detection.
The sum of these benefits results in drastic reductions in companies' logistics costs, by around 25-30% according to experts.
Scientific reasoning has converged on the idea of investing in warehouses and automation.
A publication by Public Health England has shown that a disorganised environment hinders creativity and can lead to dissatisfaction at work.
The same article noted that improving employees' work environment can also be reflected in the brand. In addition to motivation, well-organised warehouses are safer, given that they reduce the risk of accidents in the workplace.
There is therefore no doubt in the consideration all older, more traditional – and, let's say, "manual" – warehouses and logistics systems are destined to be slowly abandoned in favour of automation and all of its resulting benefits.
Beyond the contingent and tangible benefits in terms of efficiency and ROI, there are also collateral advantages to warehouse automation. We need to think in visionary terms about the factory of the future.
Automation also means connecting the various automations with a view to M2M and to real machines and systems that communicate with each other, not only for greater and safer integration between hardware and software but also for precise monitoring of processes, devices, servers and data.
The information is not only collected, it is then analysed and streamlined, in particular in the name of predictive maintenance to anticipate faults or malfunctions, prevent production downtime and report the issue ahead of the failure.
Artificial intelligence, connectivity and versatility result in improved use of resources (including people) and greater competitiveness.
The use of automated equipment and robotics not only improves performance and speed, it also has a major environmental impact.
First of all, it can reduce energy costs (bear in mind that a VLM consumes approximately 0.3 kWh less energy than a hair dryer).
Robots can work in "more difficult" conditions than humans, requiring less light and heating, and they also require less energy.
Equipment designed for waste management or pallet recycling will normally be included in an automated system, which requires less effort and labour for its effective management.
AUTOMATION PROCESSES
Automation can cover many aspects of a warehouse, from maintenance management to goods handling. The main automation systems will be considered below.
Self-driving vehicles (AGVs, AMRs)
A new resource in the supply chain, to optimise warehouse operations and validate inventory quality assurance.
Autonomous mobile robots (AMRs)
Robots that move with no human assistance, according to plotted paths within companies. They can operate 24 hours a day, limit accidents and can be used in extremely hazardous or toxic environments that would be too risky for people to enter. They can be easily integrated with other technologies and can relieve operators from low value-added activities, as well as guaranteeing operating distance.
Their agility means autonomous mobile robots and automated guided vehicles (AGVs) can travel independently of a central infrastructure on floors not traditionally envisaged for robots.
According to ResearchAndMarkets.com, the global AGV and AMR market is expected to reach $13.2 billion by 2026, at a growth rate of approximately 35%. Between them, AGVs and AMRs are expected to exceed the threshold of 1.5 million units in the next five years, making mobile robots a new normal in our everyday operations.
Palletising systems
These automatically load pallets into and out of a warehouse. Although palletising robots are not a new concept, there is now a growing demand for smarter systems that take into consideration the weight, size and crushability of the product before goods are palletised. Connecting palletising systems to other areas in a warehouse is also essential.
Automated storage and retrieval systems (AS/RS)
AS/RS systems are one of the most complex fields in warehouse automation and enable automated storage of crates and pallets after delivery from the supplier and picking for the order picking process. They also include automated shelving, shelving and shuttle systems and allow for much more densely packed warehouses.
In addition to AS/RS, automated storage is characterised by vertical lift modules (VLMs), which are basically mobile cabinets that exploit space at height and bring goods to people.
Warehouse management system (WMS) software
The term "WMS" refers to the warehouse management software whereby the goods in a warehouse are tracked and monitored, and all the necessary automations are connected.
From product tracking – which identifies the optimum location for storage – to picking functions, and from stock control and automation of goods receipt to shipment management and courier tracking. Such a system can track all events in the warehouse: product tracking, storage positions, stock control, item master data, movements, volumes, receipt of goods, shipment supervision and courier tracking. It therefore collects all the data needed to improve efficiency and productivity, and supports the company in all its organisation, coordination and control of movements and logistics processes.
It can be used in client- or web-server modes (in the most recent solutions) and must be integrated with an enterprise resource planning (ERP) system – which in turn manages the administrative aspects – and with any other storage and handling software.
Maintenance, repair and operations (MRO)
The world is increasingly moving towards a concept of predictive maintenance. Starting from the analysis of the data it collects in automatic systems, it automatically collects data on operating cycles and movements, for example.
HOW AUTOMATIC WAREHOUSES WORK
A vertical warehouse is an automatic storage system, designed to make the most of the height of premises while occupying minimal space on the floor.
The system saves up to 90% of floor space compared to traditional warehouses and stores up to 90,000 kg of goods in special trays.
This structure, known as a vertical lift module (VLM), takes the form of a "tower" and consists of three columns: one in the front, another in the back and a third in the middle.
The system is based on the "goods-to-man" concept and is therefore automatically available to the operator, improving picking operations and reducing the work and time required for order preparation.
In practice, the goods are initially stored in the trays in a smart manner, which also takes into consideration the optimisation of the space between the trays.
Once the products have been added to the vertical cabinet, the Modula system uses dynamic tray height storage to minimise the space between the trays in relation to the height of the stored material.  In practice, the drawers are adjusted to leave as little empty space as possible between one tray and the next.
The trays are located in front of and behind the central column of the elevator, which moves up and down depending on the tray to be picked up or repositioned.
Using the automatic, user-friendly Copilot touchscreen console, the operator calls the tray to the bay and picks up the material they need according to the picking or deposit action they are taking. Once this operation is complete, the warehouse moves independently and offers the goods in the bay at operator height, guaranteeing full ergonomics and safety.
With an external bay, picking is really convenient; for double bays (internal or external), several operations can be carried out at once to speed up picking.  As one tray arrives in the operator bay, another can move within the warehouse to prepare for the next picking, which increases efficiency and eliminates downtime.
When storing materials, the process is the same.
Each time an operation is performed – via the automatic console – the operator can confirm the action and keep track of all activities completed. To improve movement and access tracking, access can be managed or limited using passwords, RFID or badges, for full tracking of all actions taken on the goods.
PICKING SYSTEMS
The picking and order preparation systems within a company represent a highly sensitive and complex process, although it is also essential for the organisation and proper functioning of the warehouse. 
The preparation of an order or the sorting of material involves a collection action, i.e. a selection of packages, components, products or materials that are brought together to be subsequently shipped or destined for other internal compartments of the warehouse itself.
These operations have a significant impact on warehouse costs, as they involve almost all the resources available and have a direct effect on service and client satisfaction.
Companies are therefore investing more and more in improving the efficiency and throughput of picking operations.
There are two different types of picking, one manual, the other automated.
Manual picking is the most common and is used in small and medium-sized enterprises, where operators travel within the warehouse with a picking list. 
It is easy to imagine the "physical" limits of these operations, where it is impossible to collect packages or materials that are too heavy or affect efficiency as a result of the much longer time taken.
Supporting vehicles such as electric pallet trucks, forklifts or reach trucks are often used to facilitate manual picking. As such, it is easier to pick goods from shelving and to handle them.
Manual picking can be even more efficient if supplemented by goods-to-person (G2P) picking solutions, which take much less time and reduce labour costs considerably.
Technologies such as pick to light or pick to voice can also increase the efficiency of the human worker, even if the task is not truly automated. There are also solutions such as picking stations and picking carts, which are based on the put-to-light concept, added to by a dedicated order preparation phase.
Automated picking involves the use of conveyor belts, automatic trolleys, robots, AGVs and automated warehouses, as a result of which the operator remains at their workstation and the goods are moved towards them. 
This type of scenario involves a greater initial investment, but in the long term it can be an unparalleled decision: optimising order preparation can help companies achieve a considerable increase in productivity by significantly reducing the error rate. Automated picking can be added to with aids and options that make it even more efficient: the same options that apply to manual picking can be used and are more effective in automated solutions.
Put to Light, picking stations and picking carts make it easier to identify items to be picked and set up a suitable location for collection, organised in advance for their movement.
In a Put to Light system, displays provide the operator with a visual guide to the positions where items are to be placed for each order: a luminous display is associated with each position or container assigned to an order.
Once an item has been identified for picking, the displays provide the operator with a visual indication of the bin to put it in and the quantity required for each order.
The software used to manage the Put to Light system makes it possible to implement different picking strategies, including batch or multi-order picking. This system can be reproduced with a picking cart – a steel trolley that can easily be manoeuvred, with levels to support the containers and a certain number of put-to-light displays with their controller and Wi-Fi for wireless connectivity – or with a picking station if it is necessary to expand the picking area or extend the system to process multiple orders simultaneously.
Modula's new picking solutions optimise order preparation, helping companies to achieve a considerable increase in productivity. When combined with automatic storage systems such as Modula automatic warehouses, they also greatly simplify picking operations and significantly reduce the error rate. In combination with WMS software, Modula picking solutions make it possible to implement picking strategies, including for batch or multi-order picking.
MOBILE ROBOTS, ROBOTICS & AUTOMATION
Robotics and automation are quickly becoming a key success factor for all companies and have a major impact on the world of logistics. They are critical for faster, safer and error-free distribution, shorter time to market and, ultimately, lower costs for businesses and consumers.
This combination results in the idea of associating autonomous mobile robots (AMRs) with automated storage systems.
Amazon Robotics is automating the company's logistics centres using over 80,000 mobile robots, an increase of over 200% from the 30,000 in late 2015.
Mobile robots were invented to transport materials within industrial spaces with no human intervention, by mapping the plant and moving in total autonomy and safety, using sensors and artificial intelligence.
In general, they are very useful tools to improve efficiency, throughput and precision; their great flexibility in terms of configuration also allows for rapid changes in approaches due to both constant and unexpected developments.
Their use is also combined with the need to cut operator travel time during production or order preparation processes, as well as movements in hazardous areas or those harmful to their health.
Sometimes, even proximity to working machinery can result in injuries or harm to people, which can be avoided by using robots. Another major issue is the shortage of labour and the need for qualified staff to spend their time on tasks that add more value.
Mobile robots for logistics have been spreading for almost a decade, with millions of AMRs all over the world. Their growth is expected to continue, by up to 40% per year according to forecasts from the International Federation of Robotics (IFR).
MOBILE ROBOTS, ROBOTICS & AUTOMATION
Robotics and automation are quickly becoming a key success factor for all companies and have a major impact on the world of logistics. They are critical for faster, safer and error-free distribution, shorter time to market and, ultimately, lower costs for businesses and consumers.
This combination results in the idea of associating autonomous mobile robots (AMRs) with automated storage systems.
Amazon Robotics is automating the company's logistics centres using over 80,000 mobile robots, an increase of over 200% from the 30,000 in late 2015.
Mobile robots were invented to transport materials within industrial spaces with no human intervention, by mapping the plant and moving in total autonomy and safety, using sensors and artificial intelligence.
Mobile collaborative robots are very simple to program and can easily be deployed in any industrial environment of any size.
Their sensors and artificial intelligence make them both precise and completely safe: smart cameras, scanners and software are integrated with the robot's guidance, enabling them to move around obstacles, between workers, through doors, tunnels and elevators, and to speed up or brake suddenly to avoid hazards such as people or goods.
A wide range of robots are also available, to tow loads, to handle boxes, pallets, crates or other materials, or even to interact directly with Modula automatic warehouses or conveyor belts.
The main benefits of adopting robots are:
Efficiency, related to higher working autonomy with the completion of various tasks with no requirements for operators or workstations, to the low maintenance and repair costs, and to the option of tracking all their movements in real time
Agility and flexibility, related to the minimal infrastructure and space required, to the simplicity of programming and to their dynamic navigation within a plant
Safety, not only for workers, but also for staff, goods and machinery and ease of access to robot movements, their speed and their tasks
Savings in terms of working hours and staff that can take on roles that add more value.
ROBOTS & MODULA AUTOMATIC WAREHOUSES
Robots can transport materials picked from Modula automatic warehouses or from other storage systems. Picking can take place manually or automatically.
Material transportation
Robots can transport materials picked from Modula automatic warehouses or from other storage systems. Picking can be manual or automatic.
Pallet transportation
Autonomous robots can pick/deposit the pallet, then move it within the warehouse.
Applications
Manual
Manually by operators, who perform manual picking operations from Modula trays, then give the picked material to the robot, or vice versa can load the Modula tray with the material brought to them by the robot.
Automatic
Automatically by robots suitably equipped with a "top module", which can be customised according to the weight and type of material to be handled. The robot can then position itself in front of a Modula warehouse and can pick/deposit trays
of material, with no human intervention required.
Hooks & picking carts
In some cases, especially when many orders need to be prepared at the same time, a mobile put-to-light system – known as a "picking cart" – can be useful. The picking cart can be handled manually or automatically, using a special "top module" equipped with a tow hook.
AMR & anthropomorphous robots
MiR mobile robots directly transport an anthropomorphous cobot; once near the automatic vertical warehouse, the cobot completes the picking directly from the tray in the bay.
This application is particularly useful for picking individual items, with the robot replacing a human to complete the picking.
7+1 Deadly Sins of the Warehouse
Do you waste lots of time looking for goods in your warehouse? Are your orders often wrong and get returned? Do you often run out of stock and have to halt production? With our online free course you will solve your management issues and improve your warehouse's performance in just 10 steps.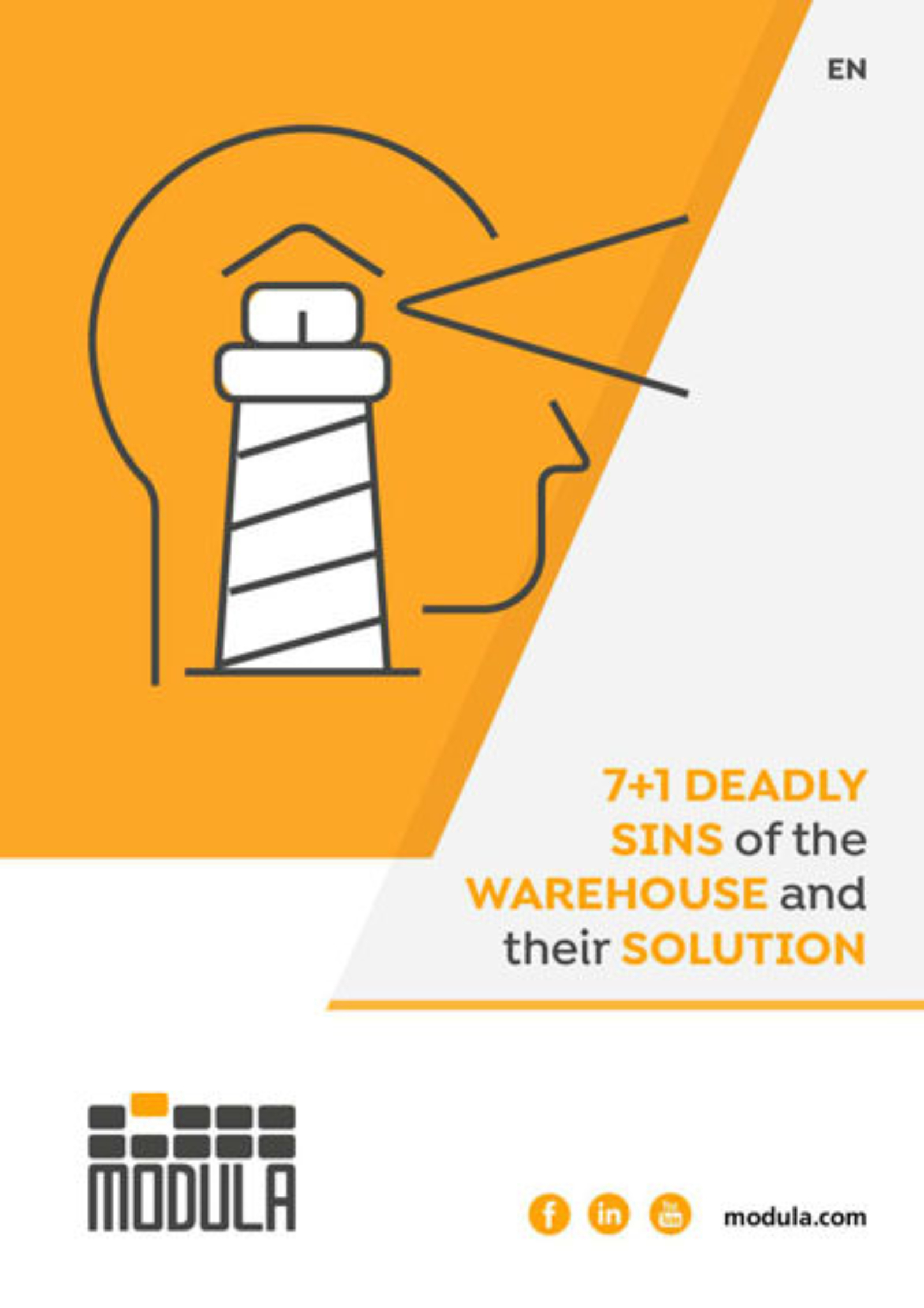 Sign up to stay updated on the latest published articles