What does warehousing actually mean?
When we talk about warehousing, we mean all activities relating to the organisation and storage of raw materials, semi-finished products and finished products.
The word "warehouse" is a compound of "wares" meaning "goods" and "house" or building. "Wares" become accumulated into stores because there is no real temporal correspondence between demand and supply. The goal of any business is obviously to reduce the amount of goods in stock to a minimum because they are subject to deterioration and this can slow down production and waste money. Therefore almost every organisation has to combat this problem and their success depends on their ability to best manage their stocks of products in order to avoid further waste. To do this, you need to carry out a meticulous study of the distribution and position of goods on the shelves and in Storage Units (SU) appropriate to the type of shelves you have in your warehouse.
Types of metal shelving systems
Directly linked to the subject of stocks are issues relating to warehouse systems which may or may not require the use of equipment. Storage systems which do not require equipment are those where goods are stored on the ground in stacks or as single items. Such systems involve an enormous waste of space, especially in the event of unsolicited deliveries, and have a high risk of accidents if the stacks are excessively tall.
Metal shelving storage systems, however, can come in a multitude of different forms as detailed in consultation No. 16/2013 including:
Come potete notare, per legge, sono previste soluzioni automatizzate oltre alle classiche scaffalature statiche.
Norme di riferimento per la progettazione, l'uso e la manutenzione delle scaffalature metalliche
La Commissione per gli interpelli è molto chiara riguardo al montaggio e smontaggio delle scaffalature metalliche: deve essere applicato il Titolo IV del D.Lgs. 81/2008 in relazione alla situazione di fatto, ovvero in base alla tipologia di scaffalature e al contesto all'interno del quale devono essere montate.
La legislazione di riferimento per la sicurezza delle scaffalature non si esaurisce qui ma comprende anche alcune norme tecniche come:
Light shelving units: appearing in this category are shop and commercial shelving systems
Medium and heavy-duty shelving systems: these include cantilever, drive-in, drive-through and pallet racks
Ultra-heavy-duty shelving systems: these include coil racking and sheet metal stacking systems with a payload of between 5 and 20 tonnes per level
Dynamic gravity racking systems: these use rollers made of steel for pallets or plastic material for boxes, containers, etc.
Automated filing and storage systems: these can be filing and storage systems which rotate vertically or horizontally, slide vertically or use stacker cranes
As you can see, the law provides for automated solutions other than the traditional static shelving systems.
Standards referred to during design, use and maintenance of metal shelving systems
The subject of metal shelving systems is covered in the aforementioned consultation by the Commission for consultations in which it states that to the installation and removal of metal shelving systems that Section IV of Italian Legislative Decree No. 81/2008 must apply in relation to the current situation, or be based on the type of shelving system (some of which are listed above) and on the context in which it is to be installed.
The legislation covering safety of shelving systems is not covered in full here, but also includes some technical standards which include:
UNI EN 15512: Adjustable pallet racking systems – Principles for structural design
UNI EN 15620: Pallet racking systems – Tolerances, deformations and clearances
UNI EN 15629: Specification of storage equipment
UNI EN 15635: Application and maintenance of storage equipment
Alternatives to shelving: automated storage systems
If you are looking for storage systems which are more modern and more innovative than traditional metal shelving units, to speed up operations in your business then automated storage systems are the solution that's made for you.
There are various types available, and even combinations too. In order to choose the right one, you must consider the following points:
the type of products to be stored: weight, size, organisation within the Storage Units (SU)
the space you have available. Generally speaking, most automated systems are particularly recommended where the floor space is limited but where the height of the factory can be used. There are, however, other solutions designed to use available horizontal space
the budget you have available for this investment. Possible alternatives are multiple and vary according to cost: there's a difference between redesigning your entire warehouse and "simply" implementing a solution using automation for storing and moving goods around. Depending on the budget you have available, you can opt for automated systems such as Vertical Lift Modules which have a lower individual price tag and which can be combined to suit your needs. This won't commit you to large startup costs
The improvements brought by automated storage systems also apply to picking operations which comply with the trend for "Goods to Man" and not "Man to Goods". In other words, the goods are brought automatically to the operator, drastically reducing the distances covered and time taken during picking.
Types of automated storage systems
Let's take a look at four types of automatic warehouses for storing goods that you could use to replace your metal shelving systems.
Horizontal carousels are the ideal solution where the height of your building is limited or where there are unused aisles. These automated storage systems allow you to reduce the distances you cover and the time it takes to pick and despatch your goods.
The main advantage is that you can locate several carousels next to each other and centralise your picking and loading station, so that one single operator can perform more than one action at the same time while the carousels are operating simultaneously.
Miniload automatic warehouses first appeared as a response to the need for the storage and handling of very small items. The main characteristic of these is the stacker cranes which sit between the shelving units in the warehouse and which moves up and down picking and depositing trays, containers or boxes containing the goods. The containers can be of various sizes or materials. The main prerequisite is that they guarantee the stability of the load. Each stacker crane can service one or more aisles and is propelled automatically by software which simultaneously records the position of each individual unit within the warehouse.
These storage solutions are created based on your existing structure and this is why you need to provide the maximum of detail during the design phase. Since these are fixed, customised structures, they require a large budget and are not easily modified.
Automatic stacker crane warehouse (AS/RS)
These are warehouses for the automatic storage of pallets using stacker cranes, or special robots which move around between the shelving units carrying goods. The difference with the previous warehouse type is the Storage Unit. As you will have noticed, the automatic stacker crane warehouse uses pallets, not the smaller containers.
In this case, there is also a central WMS computer system which manages the internal allocation of pallets automatically.
The warehouse's structure can also be prefabricated or self-supporting and this constitutes the main disadvantage of this solution as it requires a large investment. However, the definite advantages are the ability to optimise available space in which the aisles can be narrowed to the minimum necessary to move the pallets. At the same time, they can maximise unit heights by having mainly vertical warehouse construction.
Vertical Lift Modules are automatic vertical warehouses with sliding trays and a high storage capacity. Their operation is very simple: the operator only needs to place the goods in the chosen tray, enter the product code and quantity loaded using the interface provided next to the delivery level. The trays are moved about automatically inside the warehouse, and using Dynamic Tray Height Storage, you will never have to worry about the size of your goods. The warehouse is able to manage the clearances between the trays completely autonomously and this ensures that the space is optimised by compacting the location of the trays.
One of the main advantages of these automatic warehouses is the fact that they don't require aisles to move the goods about. The trays are moved by the system and only appear at the single or double delivery level which can be internal or external. Thus all the warehouse space can be used to store goods. They can be floor-based so you can place several machines next to each other to form a battery, or they can be vertical as they can be adapted to the height of your building, up to 16 metres tall.
VLMs are suitable for the storage of any type of goods, from very heavy products down to the smallest items. There are however weight limits for an individual tray and for the entire warehouse. Nevertheless, we're talking about a payload of up to 990 kg per tray and a 90,000 kg gross unit payload for the latest models on the market.
Ideas for warehouse reorganization
Improving the organization of the warehouse does not necessarily have to be a complex operation: study the floor plans, think both horizontally and vertically, consult with your personnel. Check out some easy-to-implement tips to boost personnel satisfaction and your earnings quite quickly.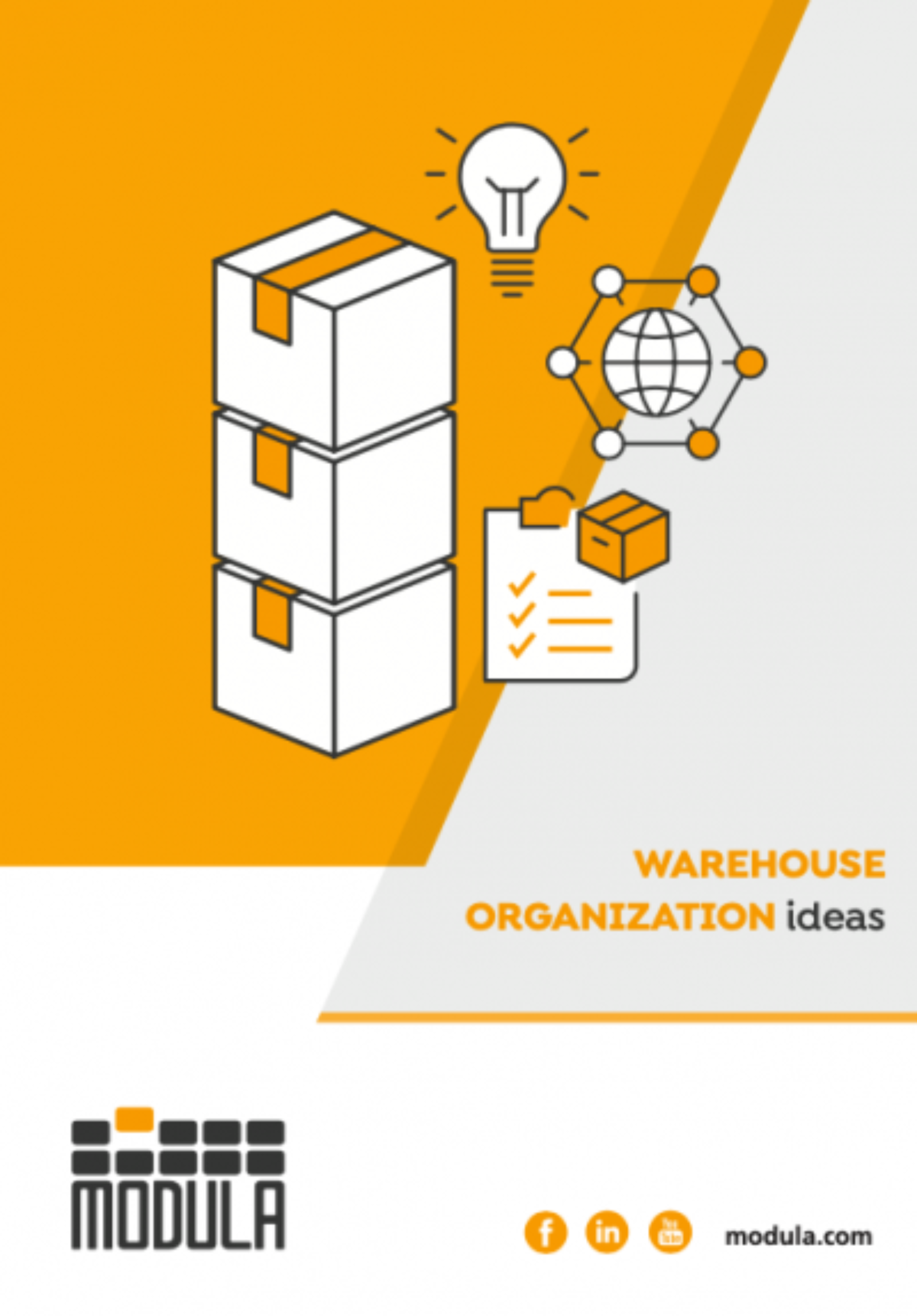 Sign up to stay updated on the latest published articles